So, what is FISC ® ? What do I get for my money & why should I want to join ?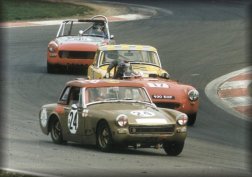 Before you read this page you should know that I am not officially involved in running of FISC in anyway at all. I am just a regular FISC member trying to tell you how good it is. My only benefit here is, the more & better quality cars & racing we have, the more fun I have.

F.I.S.C. is Foundation International Spridget Competitions. It is a non-commercial & non-profit making organisation dedicated to creating a competitive, fair & close environment for Sprites & Midgets to race at a cheap price.
FISC & Spridget are registered trade marks of the British car Club.

This page lists some of the main points/benefits ( in my opinion ) of becoming a member. I suggest you read this page before you read further details on any of the other options available to you (details at the bottom of this page), since many of the points made on this page are valid for all membership types.

I appologize, in advance, for the length of this page, but if you're not sure what FISC is or what it's about, this page explains everything.


---

Firstly I want to tell you why I choose to race in the European FISC race series. The following points are not listed in any particular sequence.

It's great value for money

You may find races which are cheaper, but a FISC race weekend consists of 2 races & 2 practices (a total of 80 - 100 mins of track time), includes all your food & hospitality & should you need it a free ferry. AND for your money you get to race on some of Europes best Racing circuits.
Payment is made via cash at the track.


The off track atmosphere is very friendly

FISC members are on the whole very friendly. Most people will help you out, if you have a problem. It is NOT the case that other drivers are happy when you can't start a race. In fact quite the opposite. Read some of the race reports to get the feeling from a typical race weekend. I have raced in other series where each team keeps to itself, this tends not to be the case with FISC teams. A big thing here is the free catering service. See here for more details.


The driving is close, fast, competitive but fair.

I could write a lot here, but suffice it to say, that track incidents are very rare. Everyone out there is out to have fun. No-one wants a bent car at the end of a weekend. If you check out the standard of the cars running with FISC, you'll notice that they are on the whole very well prepared and dent free. Should an accident happen there is a yellow card / red card system (as in football - soccer to you Yanks out there !) after your second accident you are "invited" to miss a race. I am not aware that this has been neccessary to use yet, but it's comforting to know that if someone decides to use you as an "emergency brake", it doesn't go unpunished.
Also if you check out some of the drivers we have driving with us, & our lap times you'll see, we don't hang about !




You get to race on the best circuits in Europe

Fed up of Pembrey, Thruxton, Oulton park etc etc ?? How about Dijon ( French Ex-F1), Nordschleife (German Ex-F1), SPA (Belgian current F1), Le Mans (France), Zandvoort (Holland Ex-F1), Nurburgring (German current F1), Assen (Holland Bike Grand Prix), Brands Hatch (UK), Silverstone (UK Current F1)... I driven all of these & more in the last few years !


Track time is amazing

A "full" member ( The Euro Tour Trophy package) will get about 570 mins tracktime in 2002. Currently (end of 2001 ) a 30 Min UK race costs about £150.- 30 mins of FISC track time costs about £85.- AND EVEN BETTER - for this price you get a free ferry crossing, catering & hospitality !


The race dates are well spread out

Usually there is one race weekend per month. This give you plenty of time to fix, tune up, repair, modify & even wash and polish your car for the next meeting. If you have a mechanical mishap the chances are you have enough time at home to repair the car before the next meeting.


The rules & regulations are designed to keep costs to a minimum

Again I could write a lot here, just let me pick out a few. Wheels & tyres are controlled. Everybody is driving with the same amount of grip. You don't look at envy at the guy 3 rows ahead of you & think "If only I could afford new slicks !" Suspension is standard. Brakes are relatively controlled (Standard disks, drums, calipers), tons of power is not much good if you can't stop. Bent rear axles are not allowed. Tyre softeners are not allowed. Relocating of the engine & gearbox is not allowed. Strengthening of the bodyshell is not allowed. The minimum weight is INCLUDING the driver. For those of us with a more "robust" build this is great.
It is NOT the case that the teams with the biggest budgets win the most races.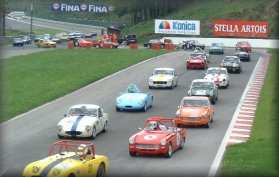 Huge grids of similar cars
---
Congratulations, you reached the end of the page ! you are either a complete anorak or would like to know more.
I can't help you anoraks, but if you'd like to find out more about the various options available to you visit the Racing Options page.


If you want to find out a bit more about the Regs go to the Regulations page.

Finally feel free to contact your national FISC representative. details here

Back