Euro Tour Trophy

The following lines are copied from the FISC introduction/regulations Booklet. Below that is my interpretation of them.
FREE entry to 6 events, 11 qualifying & 11 races
FREE ferry crossings incl. crew
FREE catering & hospitality
START MONEY will be refunded
SAVE 50% on your testing sessions
SAVE 35% on competition tyres
SAVE 25% on Jack Knight Gearboxes
FREE use of the series revlimiters
FREE roundals and competition numbers
FREE use of the maintenance tent
FREE invitation for the champions and their spouses to the annual prizegiving party at the British car Show in Holland
---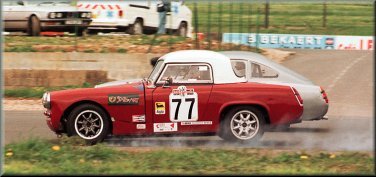 FREE entry to 6 events, 11 qualifying & 11 races
You are entitled to drive in all of the FISC meetings for the current year. Usually there are 6 race weekends planned. Each weekend usually has 2 practices & 2 races ( 4 times on the track in 2 days !). Click here to go to the current FISC race Calendar.


FREE ferry crossings incl. crew
Most races are held on mainland Europe ( Contrarey to popular belief the UK IS a member of the EU !) SO for the UK drivers this is an enormous benefit. You can bring your tow vehicle, trailer, race car & upto 4 people FREE OF CHARGE across the channel. Your only costs are your petrol/diesel & any motorway charges (e.g. in France) that you may incurr (although most UK FISC members know the best way to get to Dijon without incurring any motorway charges). Ferry Crossings are limited to Dover - Calais & return (P&O Stena line).
Obviously mainland European drivers have the same benefit when racing at a UK circuit.
There is absolutely no limit on the times of the crossings or the dates. You are free to travel over a few days before & return a few days later, making a small holiday of your racing weekend.
You are also free to fill up your car/truck with as much cheap French Wine/Beer/Champagne/Cigarettes as is legally allowed everytime you cross the Channel. This is a great way of "sponsoring" your season !
For those of you not experienced in European travel, a few tips.
Petrol is MUCH cheaper on the continent than in the UK (currently (mid 2001) Unleaded is about 70p a litre in Germany).
Petrol, Alcohol, Chocolate & Coffee (!) are ridiculously cheap in Luxembourg. If possible visit this great little country.
A lot of European countries have on-the-spot fine systems so check out speed limits etc before you get caught ! ( and the police here wear guns. Don't argue with them !),
Again, most experienced FISC members will give you some tips about driving on the continent. Usually you find that some of the Teams meet up at the ferry port & drive over together.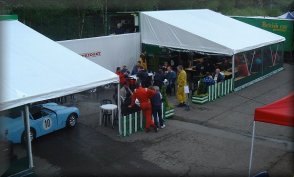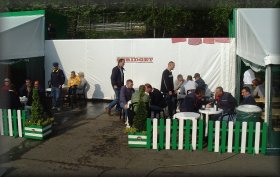 The Spridget Café - where good friends meet & eat


FREE catering facilities
This offer is valid for upto 4 team members including the driver. Children upto the age of 12 are included for free.
I cannot praise our catering staff enough. I am not light ( about 90 Kg, 200 lbs ) I enjoy my food & I really enjoy FISC food.
This service is so good, I have given it it's own page. An overview of the FISC trackside catering services is available here.


START MONEY will be refunded
The more you race, the cheaper it gets !
Start money is awarded from the 4th event as follows:-
4th event : €uro 100 (about £60)
5th event : €uro 150 (about £90)
6th event : €uro 200 (about £120)



SAVE 50% on your testing sessions
It is very often the case that you can test at the race track on the friday before the race weekend. (So for example, that means 1 day testing, 2 practices & 2 races at circuits such as Spa, Dijon, Nurburgring..... These are either current or Ex-formula 1 circuits.) Any costs incurred for these test days are not included in your membership fee, but usually you get a discount as a FISC member.


Save 35% on competition tyres
All FISC cars have to run on Bridgestone B330 tyres (155/70 TR 13). Whilst this is not a tyre I would pick for a racing tyre it does have some great consequences. Everybody is running them. There are no advantages to be had from "Sticky rubber" ( Tyre softeners are NOT allowed - & till now none of us can afford Formula 1 style tyre warmers !) The tyres are "adequate", they ensure lots of opposite lock & sliding, this in turn means less wear on your running gear, suspension & suspension pick up points. If you check out some of the times we set (in the Lap records page) you'll see that we can still drive pretty quickly. I actually passed a car on slicks at SPA last year ! ( I think he was only running on 3 though ! )
Should you "flat spot" a tyre or two or if you want an extra set of rain tyres, as a FISC member, you can buy them cheaper from Pieter Bakker (FISC Race Co-ordinator). Unless you know someone at Bridgestone or a local tyre dealer, you will not be able to get these tyres cheaper anywhere else ! I am not aware of a limit on the number of tyres you are allowed per year, but please don't take the mickey & order 25 sets !


SAVE 25% on Jack Knight gearboxes
There is a link available to the Jack Knight site from our links page.
Contact Pieter Bakker directly if you're interested in taking part in this offer.


FREE use of the series rev. limiters
Unless you are running a 1000 cc engine this is compulsary. The rev limiters are made by ARMTECH & simply clip onto the coil. Wiring is via a plug system, there is a female plug permanently on the coil (3 wires) & you simply plug in the rev limiter. The car will run without the limiter (for those of you who want to race in other series - or tune the car at home etc) You don't need to rewire it each time. The limiter is checked after every practice & every race. You will be disqualified if you are found to be running without one. "I forgot" doesn't work as an excuse - I already tried that one ! Each weekend you are given one of 50 or so rev limiters at random. You use it for the weekend & then give it back. The Rev limit is preset at 7,200 RPM - so tune your engines accordingly ! This limits the amount of tuning you can sensibly do to your engine & thus costs accordingly.


FREE roundals and competition numbers
Need I really add a comment here ?


FREE use of the maintenance tent
Great if it's raining & you have to do some work on the car. Also useful for those occasional "All-nighters". The tent is also used to store the open cars overnight. There is also an Engine Hoist available for use free to FISC members. ( & it gets used a lot !)


FREE invitation to the annual prize giving in Holland
The drivers of the 1st 3 "Euro Tour" cars will be invited to the Annual prize giving in Holland. Spouses are naturally included in the invitation. Your ferry (if neccessary) & hotel costs will be paid for by FISC.
The rest of us "If only I hadn't spun at ......" drivers are also invited but we have to pay ! I have attended most prize givings & it's a great social event. Usually held just before Christmas. Apart from a great opportunity to see the teams again , swap photos, videos & over exagerate spins, it's a great opportunity to fill up the Christmas Booze cabinet whilst crossing the channel.

FINALLY

If at any time you can't make an event, you can appoint a stand-in driver, whether for the whole event or in the case of double headers, just for one race. Normally there are no costs involved concerning a driver change. Should any additional ferry costs arise from such a driver change -e.g. you are French and your stand-in is English,- it will be the member's creditcard which will be charged for these extra costs.
You are also free to sell your event for whatever price you want. ( If you want/need to do this just place an ad. on the 4-sale board on this site).


---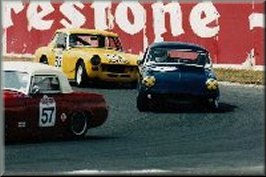 ---



From here you can go to the Membership Options page.
or
If you want to find out a bit more about the Regs go to the Regulations page.
or
simply apply for a set of regs which will be quickly returned to you.
or
Price details are on the Prices page.


Back